Al Nud | Sharjah | UAE | 1 found.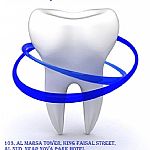 Location: Al Nud, Sharjah, UAE
Services: Cosmetic Dentistry, Dental Lumineers, Dental Surgeon, Dental Veneers, Dentist, Dentures, Laser Dentistry, Laser Teeth Whitening, Orthodontics, Pediatric Dentistry, Restorative Dentistry, Root Canal, Teeth Whitening, Tooth Crowns
About: We are operating since over 15 years and have an excellent track record. We specialise in all kinds of Dentistry and offer personalised care and professional excellence. WE also offer Dental PLANS to suit all patients starting from AED 600 only per year.