Now Health | Buhaira corniche | Sharjah | UAE | 1 found.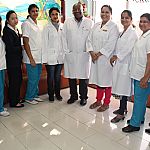 Location: Buhaira corniche, Sharjah, UAE
Services: Dental Implants, Dental Lumineers, Dental Veneers, Dentist, Endodontics, Orthodontics, Pediatric Dentistry, Prosthodontics, Root Canal, Teeth Whitening, Tooth Crowns
About: Dr. Sunny Medical Centre is one of the largest Multi-Specialty Centres in the private healthcare sector in Northern Emirates, equipped with most modern facilities. Dr. Sunny Medical Centre provides accessible and reliable medical care for the whole family at affordable rates without compromising the quality of healthcare delivery. Taking proper car...