Gum disease | Dubai Heatlhcare City | Dubai | UAE | 1 found.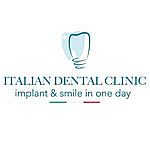 Location: Dubai Heatlhcare City, Dubai, UAE
About: The Italian Dental Clinic opened in Dubai in 2015 under the direction of a highly reputable and experienced Italian Dentist, Dr. Francesco Marrapodi. Italian Dental Clinic is dedicated to a totally comprehensive dental care approach that focuses on promoting health, rather than just treating the disease. Our goal is to provide high level of experti...